anyone can learn to sing
Yes, you heard that correctly, everyone can learn to sing! Our voice is the only instrument that is not man-made. It's an instrument that's always with us. However, the voice is an instrument that takes technique, skill, practice, and patience to perfect. Just like learning a school subject, learning to sing comes easier to some people than it does to others. However, the vocal cords are a muscle that can be trained, strengthened, and fine-tuned to perfection.
tailored lessons to fit your needs
Our professionally trained vocal instructors utilize a number of tools and techniques to teach posture, breath control, pitch and tone, and vocal range expansion. At Spicer's Music, we believe each student regardless of their age is unique and requires a personalized vocal education plan to meet and exceed their vocal goals.
increase skills and confidence
Let one of our vocal instructors and vocal coaches work with you to increase your vocal skills and self-confidence. Regardless of whether you are auditioning for a television singing competition, auditioning for a choir or band position, or simply trying to improve your voice for personal growth; our trained instructors will help you to achieve your goals!
Contact Us About Lessons
---
meet your instructor!
HOPE BROWN
Voice/Piano
about
Hope Elyse Brown is a current Junior Music Education major at Auburn University. She started her collegiate career at Samford University in 2019 under the teachings of Dr. Brad Diamond and Dr. Philip Copeland, where she was a member of Samford University's A Cappella Choir. After transferring to Auburn ... University in the Fall of 2021, she became involved in Auburn University's Chamber Choir, Women's Chorus, and Opera Workshop.

While being involved at school, she has also performed with Auburn Area Community Theatre (AACT) for two shows and hopes to continue being involved in her community while teaching at Spicer's! + Show More
---
ASIA WATSON
Voice/Guitar/Ukulele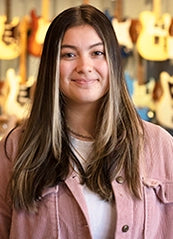 about
Asia is a college student who has been involved with music since the age of five. She started out with singing and eventually progressed to other instruments; guitar, piano, and alto saxophone. Asia performed at open mic nights from age nine to twelve until she and her family moved to Stuttgart, Germany! ... She stayed heavily involved with choir, advanced band, and jazz band in the music department at her middle and high school.

Asia has lived overseas for 15 years and recently moved back stateside to attend Auburn University. Throughout her different adventures, her love for guitar and commitment to lessons remained the same. Asia knows the importance of having a great music teacher, and her goal is to ensure that her students reach their full potential while having fun!

When Asia is not playing music, she enjoys hanging out with friends and family or drinking coffee! + Show More
---
Justin Douglas
Voice/Piano/Bass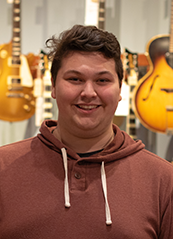 about
Justin is a student at Auburn University studying Music Education and Voice! Growing up, they were mentored and taught in church playing piano. Alongside that, they also played in bands and sang in choirs all throughout high school. Now in college, Justin participates in many choirs, writes original musical ... compositions, and enjoys making arrangements of fun tunes! + Show More
---
Morgan Fisher
Voice/Piano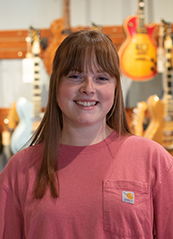 about
Morgan is currently a Junior at Auburn University and is majoring in music education. She is currently studying voice and hopes to teach choirs at a secondary school once she graduates. She has been teaching students of all ages in many subjects throughout her high school and college career, and is passionate about reaching a diverse ... population of students through music education! Morgan is currently involved in the Auburn University Singers and the Auburn Chamber Choir; Leading in each ensemble through teaching voice parts, choreography, and any other odd job needed done! She hopes that she can help to grow the passion and joy of music to all of her students.. And most of all, Morgan loves to have fun! + Show More
---
Stephen Cooper
Voice/Guitar/Piano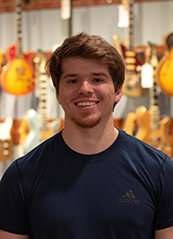 about
Stephen has been playing music since the age of five. With a mother who has a master's degree in flute performance and a father who lead worship at his church, Stephen was always around music growing up. Starting piano, guitar, and vocals at a very young age, he eventually grew into helping lead worship with his parents. Along with ... continuing to develop his vocal and guitar skills, he also branched out into playing the tuba at age 12 and made the all-state band in Florida twice! After realizing he had a great appreciation for the more technical side of vocals and music composition, Stephen created a YouTube channel and began publishing original music. This channel has accumulated around 60,000 views mainly covering rock and metal songs that showcase technically challenging vocals as well as guitar. Stephen has also always emphasized the importance of staying safe and having fun while learning to play any instrument! Aside from music, Stephen also does personal training and is at Auburn pursuing a master's degree in exercise science! + Show More
---