---
the foundation to every song
Bass is commonly referred to as the "foundation instrument to every song". Not only do drummers listen to the bass to play the perfect "groove", but the bass leads vocalists to sing the correct pitches. The bass is an important instrument in every band and requires extensive knowledge of music theory, technique, and rhythm. At Spicer's Music, we teach both bass guitar and double bass (upright bass).
lessons specific to your goals
Whether you are learning bass to jam with friends, play in a band, play in church, or audition for an orchestra, our professional bass instructors will tailor the lessons to achieve your specific goals. We can get you rocking on a 4 string, 5 string, or 6 string bass, as well as classically bowed or bluegrass plucked double bass!
Contact Us About Lessons
---
meet your instructor!
Chase Allen
Bass/Guitar/Ukulele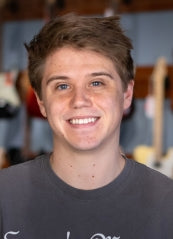 about
Chase started playing music at the age of four, starting with drums and, shortly after that, picking up the guitar. Growing up in a musical household, he was exposed to many different types of music from an early age. In high school, Chase founded multiple bands and was captain of the drumline. Chase then ... attended the Atlanta Institute of Music. After graduating, he toured with numerous pop, rock, and country groups around North America and studio session work in Nashville and Atlanta. Chase is currently playing with the group Trotline. He resides in Auburn with his lovely wife Caitlin and their dog Luna. + Show More
---
Tom Spicer
Double Bass/Mandolin/Harmonica/Ukulele/Dulcimer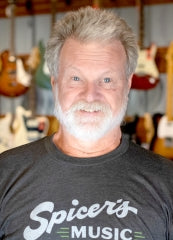 about
At age four, Tom received his first musical instrument, a Ukulele to which he still has. At age seven, he got a set of Ricky Recardo drums and played trumpet in the school band starting at age 10. When in high school, he switched to valve trombone, baritone, and euphonium. While in college, Tom was exposed to harmonica ... and bought all the records he could find with a harmonica in the songs. Since harmonicas are in a specific key, Tom learned guitar to tell what chords were being played and what key harmonica was needed to play along.

He loves all styles of music and has played in folk, country, bluegrass, jazz, and contemporary music groups, his latest being a Jazz grass band for 30+ years. Besides the harmonica, Tom's main instruments are mandolin, ukulele, upright bass, autoharp, and the Appalachian lap dulcimer.

He loves inspiring students to learn their favorite songs while emphasizing technique, theory, and sound fundamentals. + Show More
---
NATHAN HOOPER
Bass/Guitar/Ukulele
about
Nathan Hooper is a singer-songwriter and multi-instrumentalist. Born and raised in Nashville, TN, he learned the valuable skill of playing music alongside other musicians at an early age. He began playing drums at age 4, learning from his father. Then at age 12, he picked up the guitar and found a new ... musical avenue to explore. Other instruments he plays include bass, piano, banjo, mandolin, and harmonica.

In school, Nathan plays in both the percussion and jazz ensembles but also plays in bands he started with friends. In his free time, he frequently writes his own songs and has come to love the songwriting process.

Nathan enjoys sharing his love of music through practicing, performing, songwriting, and teaching others! + Show More
---
Justin Douglas
Voice/Piano/Bass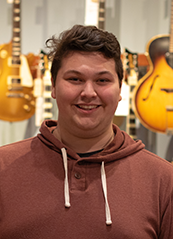 about
Justin is a student at Auburn University studying Music Education and Voice! Growing up, they were mentored and taught in church playing piano. Alongside that, they also played in bands and sang in choirs all throughout high school. Now in college, Justin participates in many choirs, writes original musical ... + Show More
---
Dylan Scott
Guitar/Piano/Bass about
Dylan Scott is from Birmingham, Alabama. His musical journey began with piano lessons, and continued to blossom when he joined the middle school band! Dylan participated in band all the way through high school, and in that time he played bassoon, alto and baritone saxophone, piano and contrabass clarinet! He was also a ... member of his high school's show choir and honor choir. Dylan grew up learning to play the organ at his church and even had a small pipe organ in the basement of his home for practice. (Ask him about it - It's pretty incredible!) Upon moving to pursue a college degree, Dylan has taken many classes through the Auburn University Department of Music - Specializing in music education. Dylan is employed at 2 local churches directing different musical activities, and is currently teaching piano, guitar and bass at Spicer's Music! He is thrilled to get the chance to help students grow in their love for music. + Show More
---