---
from blues to bluegrass
We specialize in teaching many folk instruments ranging from ukulele, mandolin, and banjo, to harmonica, dulcimer, and concertina. Many of these folk instruments are often found in bluegrass, country, blues, and folk music. Instruments like ukulele and dulcimer are popular choices as they can be easily played with a single finger.
perfect gateway instrument
This makes the ukulele and dulcimer popular choices for young children as a "gateway instrument" and for adults who want to spend more time playing songs than focusing on playing a challenging instrument. We can have you playing a ukulele or dulcimer in the first 15 minutes of your first lesson!
song based approach
Mandolin, banjo, harmonica, and concertina are unique sounding folk instruments that require a little more technique and time spent learning. Our professional instructors often use a song-based approach when teaching folk instruments. With this method, we can teach technique, theory, playing by ear, and learning to read music through songs that the student enjoys listening to. This makes practicing the instrument feel less like "practice" and more like playing!
Contact Us About Lessons
---
meet your instructor!
Chase Allen
Ukulele/Guitar/Bass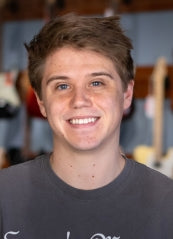 about
Chase started playing music at the age of four, starting with drums and, shortly after that, picking up the guitar. Growing up in a musical household, he was exposed to many different types of music from an early age. In high school, Chase founded multiple bands and was captain of the drumline. Chase then ... attended the Atlanta Institute of Music. After graduating, he toured with numerous pop, rock, and country groups around North America and studio session work in Nashville and Atlanta. Chase is currently playing with the group Trotline. He resides in Auburn with his lovely wife Caitlin and their dog Luna. + Show More
---
James Berryhill
Banjo/Guitar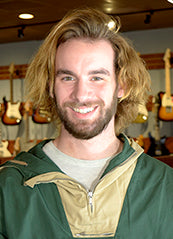 about
James has been a devoted music student since he first picked up the guitar at eleven years old. James is currently an English-Literature and Music student at Auburn University. He is the sole guitar player of the Auburn University Jazz Band and is the co-student music director of Auburn University's commercial ... music ensemble, Sonic Nation.

James began teaching music at the beginning of 2021, but his teaching career first started at Master Scarsella's World Class Tae Kwon Do, where James was a senior martial arts instructor for over four years. James applies much of what he learned as a martial arts instructor to how he teaches music, always emphasizing the importance of patience and making learning fun.

On the guitar, James' specialties are jazz, blues, and fingerstyle, and on banjo, James's specialties are Scruggs and folk-style. James often performs solo and with his band, Silhouette, at local bars, restaurants, and events. He is also an avid singer-songwriter, with a keen emphasis on memorable melodies and deeply personal lyrics. + Show More
---
Tom Spicer
Mandolin/Harmonica/Double Bass/Dulcimer/Ukulele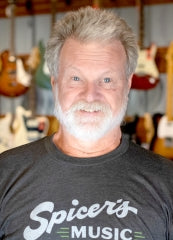 about
At age four, Tom received his first musical instrument, a Ukulele to which he still has. At age seven, he got a set of Ricky Recardo drums and played trumpet in the school band starting at age 10. When in high school, he switched to valve trombone, baritone, and euphonium. While in college, Tom was exposed to harmonica ... and bought all the records he could find with a harmonica in the songs. Since harmonicas are in a specific key, Tom learned guitar to tell what chords were being played and what key harmonica was needed to play along.

He loves all styles of music and has played in folk, country, bluegrass, jazz, and contemporary music groups, his latest being a Jazz grass band for 30+ years. Besides the harmonica, Tom's main instruments are mandolin, ukulele, upright bass, autoharp, and the Appalachian lap dulcimer.

He loves inspiring students to learn their favorite songs while emphasizing technique, theory, and sound fundamentals. + Show More
---
ASIA WATSON
Ukulele/Guitar/Voice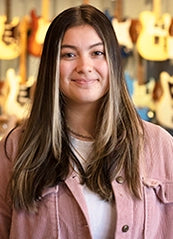 about
Asia is a college student who has been involved with music since the age of five. She started out with singing and eventually progressed to other instruments; guitar, piano, and alto saxophone. Asia performed at open mic nights from age nine to twelve until she and her family moved to Stuttgart, Germany! ... She stayed heavily involved with choir, advanced band, and jazz band in the music department at her middle and high school.

Asia has lived overseas for 15 years and recently moved back stateside to attend Auburn University. Throughout her different adventures, her love for guitar and commitment to lessons remained the same. Asia knows the importance of having a great music teacher, and her goal is to ensure that her students reach their full potential while having fun!

When Asia is not playing music, she enjoys hanging out with friends and family or drinking coffee! + Show More
---
NATHAN HOOPER
Ukulele/Guitar/Bass
about
Nathan Hooper is a singer-songwriter and multi-instrumentalist. Born and raised in Nashville, TN, he learned the valuable skill of playing music alongside other musicians at an early age. He began playing drums at age 4, learning from his father. Then at age 12, he picked up the guitar and found a new ... musical avenue to explore. Other instruments he plays include bass, piano, banjo, mandolin, and harmonica.

In school, Nathan plays in both the percussion and jazz ensembles but also plays in bands he started with friends. In his free time, he frequently writes his own songs and has come to love the songwriting process.

Nathan enjoys sharing his love of music through practicing, performing, songwriting, and teaching others! + Show More
---