---
classical and contemporary methods
The violin, viola, cello, and harp are a very expressive and emotional instruments; when you play with the right combination of technique and musicality, the notes truly come alive. The violin specifically is an extraordinarily versatile instrument depending upon how you approach it. At Spicer's Music, we specialize in both classical and contemporary teaching methods from violin to fiddle music.
Suzuki and traditional methods
Our classical students are taught using the Suzuki Method and/or the Traditional Method. Both classical teaching methods have their own strengths, and we tailor the teaching method to meet the needs of each students' goal. Both classical Suzuki Method and Traditional Method teaching styles use a different approach to teach the orchestral instrument with focus placed on teaching the student music theory, technique, and reading music.
traditional to fiddle
Fiddle is a more relaxed style used often in bluegrass, folk, and country music. Fiddle teaching methods place more focus on ear training and song learning, as well as proper technique, music theory, and sight reading. Our trained instructors will work with each student and family to select the best teaching method to achieve the desired personalized goals of learning the instrument.
Contact Us About Lessons
---
meet your instructor!
Max Adams
Cello/Violin/Viola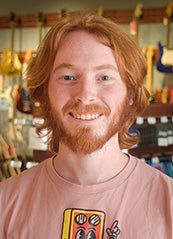 about
Max is a lover of music in all forms since age seven when his grandmother gave him a present of either violin or cello lessons. Choosing cello lessons he began playing and eventually joined the Alabama Youth Symphony at age 14 and the Alabama Youth Symphony Orchestra at age 16. He continued his musical journey ... by attending Auburn University as a Music Education student. He is currently a member of the Auburn University Chamber Orchestra where he applies his knowledge learned to the music lessons he teaches.

Max loves working with students to discover their own love of music in any way possible.

Max is currently attending Auburn University and working towards a degree in Music Education. + Show More
---