---
From the living room to the stage
Due to it's versatility and popularity, the guitar is one of the most common instrument choices for lessons these days. Learning to play the guitar is one of the greatest joys of life, and can be played in the living room, or on stage in front of thousands.
song based approach
At Spicer's Music, our professional instructors use a song-based approach to teaching guitar. This unique teaching method infuses learning popular songs with detailed instruction in technique, theory, ear training, and learning to read music. Guitar music is most often written and recorded using guitar tablature; an easy-to-read numbering system allowing guitarists to quickly learn a song, lick, or a specific guitar solo.
Taught by professionals
Our highly skilled instructors work together with each student to develop a unique lesson plan based on their musical goals. We have successfully taught over a thousand guitarists of all ages. Some of our guitar students have gone on to become professional musicians, some are simply playing for personal enjoyment, and some have completed the circle by becoming guitar instructors themselves! Get started on your musical journey today and join the ranks of talented and happy guitarists across the Southeast!
Contact Us About Lessons
---
meet your instructor!
Chase Allen
Guitar/Bass/Ukulele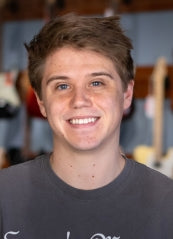 about
Chase started playing music at the age of four, starting with drums and, shortly after that, picking up the guitar. Growing up in a musical household, he was exposed to many different types of music from an early age. In high school, Chase founded multiple bands and was captain of the drumline. Chase then ... attended the Atlanta Institute of Music. After graduating, he toured with numerous pop, rock, and country groups around North America and studio session work in Nashville and Atlanta. Chase is currently playing with the group Trotline. He resides in Auburn with his lovely wife Caitlin and their dog Luna. + Show More
---
James Berryhill
Banjo/Guitar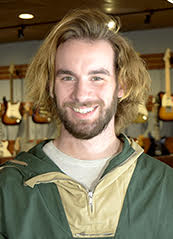 about
James has been a devoted music student since he first picked up the guitar at eleven years old. James is currently an English-Literature and Music student at Auburn University. He is the sole guitar player of the Auburn University Jazz Band and is the co-student music director of Auburn University's commercial ... music ensemble, Sonic Nation. James began teaching music at the beginning of 2021, but his teaching career first started at Master Scarsella's World Class Tae Kwon Do, where James was a senior martial arts instructor for over four years.

James applies much of what he learned as a martial arts instructor to how he teaches music, always emphasizing the importance of patience and making learning fun. On the guitar, James' specialties are jazz, blues, and fingerstyle, and on banjo, James's specialties are Scruggs and folk-style. James often performs solo and with his band, Silhouette, at local bars, restaurants, and events. He is also an avid singer-songwriter, with a keen emphasis on memorable melodies and deeply personal lyrics. + Show More
---
Ian Malinowski
Guitar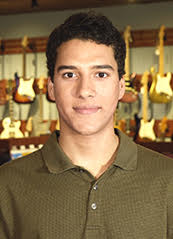 about
Ian has been a passionate musician for over 12 years. He inherited his musical abilities from his family, especially his father. Ian loves all kinds of music and is always ready to learn new musical styles and genres. Ian primarily plays acoustic and electric guitar, but he also enjoys playing bass guitar and violin. ... As a guitar instructor at Spicer's Music, Ian's goal is to create an engaging environment where students can get excited about guitar and all things musical. He meets his students at their level and tries to encourage a growing passion for guitar. Ian is currently pursuing a Bachelor's in Commercial Music at Auburn University. When Ian is not playing guitar, he loves hanging out with friends, making new friends, thrifting, and trying new foods. + Show More
---
Johnny Powell
Guitar/Bass
about
Johnny enjoys sharing the fun of playing guitar with his students and offering his musical knowledge and experience. Johnny has performed professionally across the Southeast in front of live audiences with his party band, Alabama Avenue. He has several years of experience playing guitar ... in the orchestra for live theatre. He has also worked with professional artists and local cover bands in east Alabama. Johnny's love of music is superseded only by his faith in God and the love of his wife, Michelle, and family. Johnny wants his students to be encouraged by their progress and inspired to conquer the next musical challenge by the end of every lesson. + Show More
---
ASIA WATSON
Guitar/Ukulele/Voice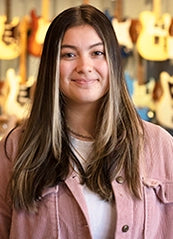 about
Asia is a college student who has been involved with music since the age of five. She started out with singing and eventually progressed to other instruments; guitar, piano, and alto saxophone. Asia performed at open mic nights from age nine to twelve until she and her family moved to Stuttgart, Germany! ... She stayed heavily involved with choir, advanced band, and jazz band in the music department at her middle and high school.

Asia has lived overseas for 15 years and recently moved back stateside to attend Auburn University. Throughout her different adventures, her love for guitar and commitment to lessons remained the same. Asia knows the importance of having a great music teacher, and her goal is to ensure that her students reach their full potential while having fun!

When Asia is not playing music, she enjoys hanging out with friends and family or drinking coffee! + Show More
---
NATHAN HOOPER
Guitar/Bass/Ukulele
about
Nathan Hooper is a singer-songwriter and multi-instrumentalist. Born and raised in Nashville, TN, he learned the valuable skill of playing music alongside other musicians at an early age. He began playing drums at age 4, learning from his father. Then at age 12, he picked up the guitar and found a new ... musical avenue to explore. Other instruments he plays include bass, piano, banjo, mandolin, and harmonica.

In school, Nathan plays in both the percussion and jazz ensembles but also plays in bands he started with friends. In his free time, he frequently writes his own songs and has come to love the songwriting process.

Nathan enjoys sharing his love of music through practicing, performing, songwriting, and teaching others! + Show More
---
Stephen Cooper
Voice/Guitar/Piano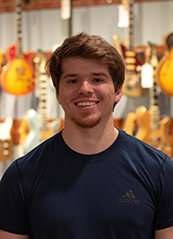 about
Stephen has been playing music since the age of five. With a mother who has a master's degree in flute performance and a father who lead worship at his church, Stephen was always around music growing up. Starting piano, guitar, and vocals at a very young age, he eventually grew into helping lead worship with his parents. Along with ... continuing to develop his vocal and guitar skills, he also branched out into playing the tuba at age 12 and made the all-state band in Florida twice! After realizing he had a great appreciation for the more technical side of vocals and music composition, Stephen created a YouTube channel and began publishing original music. This channel has accumulated around 60,000 views mainly covering rock and metal songs that showcase technically challenging vocals as well as guitar. Stephen has also always emphasized the importance of staying safe and having fun while learning to play any instrument! Aside from music, Stephen also does personal training and is at Auburn pursuing a master's degree in exercise science! + Show More
---
dylan scott
Guitar/Piano/Bass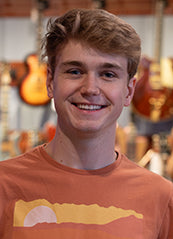 about
Dylan Scott is from Birmingham, Alabama. His musical journey began with piano lessons, and continued to blossom when he joined the middle school band! Dylan participated in band all the way through high school, and in that time he played bassoon, alto and baritone saxophone, piano and contrabass clarinet! He was also a ... member of his high school's show choir and honor choir. Dylan grew up learning to play the organ at his church and even had a small pipe organ in the basement of his home for practice. (Ask him about it - It's pretty incredible!) Upon moving to pursue a college degree, Dylan has taken many classes through the Auburn University Department of Music - Specializing in music education. Dylan is employed at 2 local churches directing different musical activities, and is currently teaching piano, guitar and bass at Spicer's Music! He is thrilled to get the chance to help students grow in their love for music. + Show More
---
Hunter Price
Guitar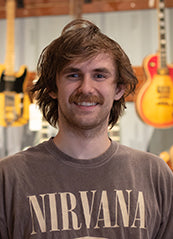 about
Hunter has had a passion for music from a young age, dreaming of becoming a professional musician. Hunter moved to Auburn from Atlanta in the Summer of 2021 with dreams of making it in the Auburn music scene. In the Summer of 2022, Hunter started a band with two friends and hasn't looked back since. ... Hunter hopes to bring joy, knowledge, and encouragement to anyone who wants to achieve their musical goals. + Show More
---