---
perfect for all ages
Drums and other percussion instruments are a popular lesson choice for students of all ages, especially younger children, as the instrument gives an immediate gratification. When you hit a drum, you get an immediate response. Drums are often referred to as one of the most fun instruments to play, as all 4 limbs can work independently to produce grooves and different rhythms.
rudimentary drumming
A lot of skill is required to perfect playing a percussion instrument. Students are initially taught rudiments, the foundation to all drum beats, as they work on technique, learning to read, and playing by ear. Our instructors often mix learning songs into the drum lessons so our students can learn how fundamental rudiments helped to create the iconic songs we know and love today. The foundational skills learned by playing a percussion instrument can easily transpose to other instruments, making the drum set a wonderful foundational instrument opening the doors to an endless possibility of instrument learning!
traditional and marching band
Our highly skilled, professional drum and percussion instructors specialize in everything from traditional drum set lessons to school band and marching band percussion instruments. Many of our students throughout the years have gone on to march in college bands after receiving scholarships. Some have even toured professionally with various bands! Let our expert drum instructors work with you to set and achieve your musical percussion goals!
Contact Us About Lessons
---
meet your instructor!
Hunter Jackson
Drums/Percussion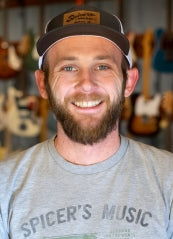 about
Hunter has been studying, teaching, and performing music for over two decades. All the while, he has never strayed from his roots in the Opelika/Auburn area. Hunter attended Opelika High School, where he performed in every possible ensemble from The Spirit of the South Marching Band to the Jazz Band. He ... followed up at Auburn University, earning a Bachelor's Degree in Music Performance under Dr. Doug Rosener.

While the study was in all percussive mediums, the drum set was his main focus. Hunter has been privately teaching for over a decade. He can teach everything from a drum set to four-mallet marimba. Hunter has invested several years in teaching at local high schools, helping with their percussive studies, including; Opelika High School, Auburn High School, Smiths Station High School, and others.

Hunter is the sitting drummer for the punk rock outfit Radio Decay and the southern rock group The Bama Gamblers. + Show More
---
Zavier Shaw
Drums/Percussion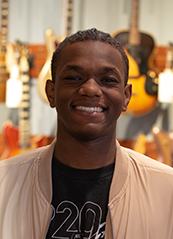 about
Picking up sticks at church at the age of 11, Zavier had a natural rhythm and excitement for drums. After years of being self-taught, he decided to audition for the percussion section at Opelika Middle School - This led to his participation in multiple ensembles with Opelika High School, including jazz band, The Spirit of the South Marching ... Band, wind ensemble, and percussion ensemble. Currently, Zavier is in the Auburn University Department of Music pursuing a Bachelor's Degree of Commercial Music with a focus on drum set. Since studying at Auburn University, he has performed with the Auburn University Marching Band, Jazz Combo, and the pop group Sonic Nation. Zavier is excited to be part of the Spicer's Music team, and is looking forward to helping students learn and grow in their love for music! + Show More
---
Luke Scott
Drums about
Luke has been drumming for over 8 years, starting first in his Junior High band program! Although he began in the concert setting, he quickly grew to love both drum set and marching drums. Luke gained great experience through playing for the youth band and Sunday services at his church.. While also playing in the marching ... band, concert band, and jazz ensemble at his high school! Luke currently drums for the band Front Seven in southeast Alabama, and has played for them for over a year. Additionally, his two man band – Discontinue – has written and released two songs so far. They are working toward releasing their first full EP this year! Luke's "why" behind teaching drums/percussion is to help others develop a broad vocabulary behind the kit so they can create and develop their own sound, collaborate with other musicians, and perform with utmost confidence! He is so excited to join the Spicer's Music team! + Show More
---