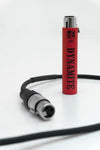 Product Description
The DM1 DYNAMITE: explosive level for all your passive mics.
Some mics need a LOT of gain - and not all preamps are up to the challenge. The DM1 DYNAMITE is an ultra-slim active inline preamp that fits seamlessly between your mic and mic pre, providing a massive +28dB of clean, transparent gain for all your dynamic and passive ribbon microphones - perfect for podcasting, recording, or live sound.
With a sophisticated class-A design and specially-selected high-grade FETs, the DM1 has vastly lower output impedance and nearly half the noise of anything else on the market. Additionally, the gain it provides is always a consistent +28dB regardless of the connected load, thanks to its dedicated buffer amplifier.
+28dB OF CLEAN, CONSISTENT GAIN, INDEPENDENT OF LOAD

designed for neutral, balanced sound quality
the perfect way to boost the signal of a passive microphone
gain stays consistent regardless of connected load
provides significantly improved level to your mic preamp for proper gain staging
SOPHISTICATED CLASS-A ELECTRONICS

state of the art electronics and high-grade FETs provide supremely low noise
transformerless design for pristine sound quality
provides the lowest noise in its class
DEDICATED OUTPUT BUFFER AMPLIFIER

provides +28dB output independent of load impedance or cable length
extremely low output impedance
drives long cable runs and can reduce susceptibility to RF interference, buzz & hum
SLIM, RUGGED ALL-METAL HOUSING WITH PREMIUM FINISH

efficient rejection of any electrical interference and noise
high-quality finish ensures a great look for many years
slim design allows for easy placement in the studio or on stage
GOLD-PLATED XLR CONNECTOR

for loss-free and reliable signal connection
SYSTEM REQUIREMENTS

REQUIREMENTS
input: passive microphone (ribbon/dynamic)
output: preamp/mixer/audio interface providing 48V phantom power

LIMITATIONS
not suitable for phantom-powered microphones (condenser microphones, active ribbon microphones)
Make a Trade